Additional Services
In addition to our traditional landscaping and property maintenance services, we can offer you enhanced services that may save you money, depending upon your specific job requirements.
Light Excavation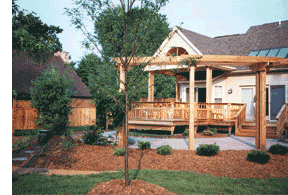 We have at our disposal the equipment and the skilled operators to properly perform light excavation projects. From expanding a crawl space into a cellar or basement to prepping ground for a patio installation, we can get the job done for you. Excavation services are available for:
Drainage Swales
Footers
French Drains
Basements
Patios
Carpentry
We continually seek to improve our capabilities and services for our customers. With this in mind, we offer you the services of a staff carpenter. This valuable addition to our staff can be a great help when planning a deck or patio.
Other Services Available from Clarke's Landscaping
Landscape Design and Installation | Hardscaping | Aquascaping | Lawn Installation/Renovation/Irrigation
Property Maintenance